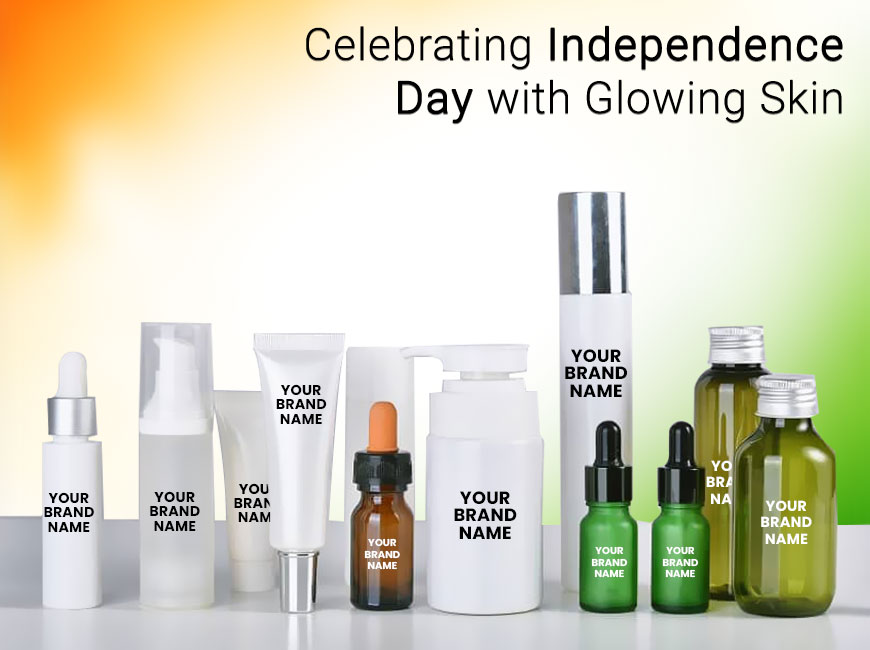 As Independence Day gradually approaches. we will now enter 77 years of independence. The pride of independence and patriotism permeates the air in India. It is a moment to commemorate the nation's rich heritage, diversity, and achievements. In the middle of these festivities, there is one feature of beauty that frequently goes hand in hand with the wonderful event – radiant skin. In this post, we honor the Indian skin care industry, which not only provides people with beautiful skin but also contributes considerably to the country's beauty sector.
Redesigning your skincare cosmetic portfolio with the Nutriglow label is the perfect way to celebrate Independence Day while giving the promise of glowing, healthy skin to your customer. Nutriglow private label is an Indian skincare manufacturing company that specializes in producing high-quality, natural skin care products for brands who want to outsource their manufacturing. Nutriglow with its innovative formulations and dedication to using only the finest ingredients. Nutriglow private label can help you to restructure your current product line and provide you independence from the hassle of manufacturing complexity & jargon. So, join us in this tribute to Indian skincare manufacturing as we explore the benefits of association with NGPL as your preferred third-party manufacturer and how we can transform your skincare portfolio.
The Beauty and the Essence of Independence Day
Independence Day commemorates India's independence from colonial domination. People gather under the tricolour flag to remember the sacrifices of freedom fighters and to celebrate the nation's success. A Good Beauty and skin care product portfolio can play an important role in the same way, allowing you to get independence from manufacturing riddles and helping you to focus on other aspects of your business such as sales & marketing as this help you to increase confidence and self-esteem. Thus, making you feel more powerful and ready to face the uncertainties in the business.
Indian Skincare Manufacturing: A Legendary Tradition
For millennia, India has had a rich history of skincare traditions and practices. Ayurveda, an ancient science that emphasizes the use of natural substances to nurture and treat the skin, has long been a cornerstone of Indian skincare. This tradition has grown through time, and We as one of India's best skincare producers have harnessed the power of Ayurveda and years of research & innovation to create products that resonate with people all over the world.
The Globalisation of Indian Skincare Manufacturers
Because of the global need for natural, vegan, cruelty-free, and holistic skincare products, Indian producers have risen to the top of the beauty market. Indian skincare production competency has gained praise from all over the world. Today, Nutriglow Private Label is a key player in the global skincare business, with a vast range of products available in different sizes, packages, and formulations customized as per the need of our clients. 
Sustainable and Eco-Friendly Manufacturing Practises in Indian Skincare
In recent years, there has been a rising emphasis in the cosmetics business on sustainability and eco-consciousness. For generations, Indian herbs, botanicals, and oils have been valued for their medicinal and restorative capabilities. Nutriglow private labels have been at the forefront of this movement, embracing ecologically friendly practices and ethical ingredient sourcing of raw herbal ingredients sourced from the world's best supplier. Not only this, all of our products are free from any harsh testing on animals which causes potential harm to innocent animals in the name of clinical trials to prove the efficacy of our product. by doing this we are not only contributing to cleaner products by emphasizing sustainability. this helps us to link our brand values with the mindful choices of modern customers.
Embracing Indigenous Beauty Rituals
The cultural richness of India is evident in its numerous beauty practices that have been passed down through centuries. From the ancient technique of mehndi (henna) application to the calming qualities of sandalwood, each area of India has its beauty traditions. We draw our inspiration from the same old traditions, incorporating them into our skincare products to build a strong emotional connection with customers.
Independence Day Specials: Celebrating Freedom With Skincare
Independence Day is a time for celebration and festivity, and Being an Indian skincare manufacturer. We want to make it even more memorable by offering exceptional Independence Day offers and discounts to existing as well as new clients for placing their first order with us. These limited-edition items exemplify the spirit of independence and Indian pride. These items, which range from tri-color-themed skincare packages to products imbued with the essence of traditional Indian ingredients, allow our clients to express their passion for the country with every skincare regimen.
Our Success Stories as Indian Skincare Manufacturers
Our success stories as Indian skincare producers attest to our commitment, ingenuity, and love of beauty. We want to elevate Brands that started small and have an aspiration to evolve into worldwide icons, making their impact in the competitive beauty business. These success stories motivate ambitious entrepreneurs and underline the importance of Indian skincare production in influencing the industry's future. You can check the success stories of the brands when connecting with our team.
Beauty With a Purpose: Indian Skincare Manufacturers' Social Initiatives
Nutriglow Private Label are committed to making a beneficial influence on society in addition to creating outstanding skincare products for our clients. Our competency illustrates the ideals of compassion and responsibility that lay at the core of Indian skincare manufacturing, from empowering women via skill development programs to supporting environmental conservation efforts.
The ultimate measure of a skincare product's performance is based on client feedback. Through the usage of Indian skincare products, many people have gained confidence, empowerment, and a feeling of pride in their cultural history. Customer testimonies that are heart-warming show the emotional connection consumers have to items that symbolize their heritage, promoting a sense of togetherness and belonging. we requested you to check our Social media handles & website home page to know more about our client testimonials or directly through our wonderful team.
Indian Skincare Manufacturing Has a Global Impact on International Markets
Our expertise as an Indian skincare maker is not limited to the country's boundaries. Many of the client's brands have also gained great acceptance in overseas markets. Our global influence may be linked to our devotion to quality, the efficacy of natural ingredients, and their ability to cater to a wide range of skin types and issues.
Future Skincare Manufacturing Trends and Innovations in India
The beauty business is continuously changing, with new trends and innovations redefining the market. Indian skincare firms are fast to respond to these developments, embracing technology and creativity to satisfy current customer needs. This sector area is set to embrace the future with unshakeable confidence, from clean beauty to personalized skincare solutions.
Let us take a minute to admire the remarkable journey of Indian skincare manufacturers as we celebrate Independence Day with beautiful skin. Indian skincare producers have made enormous progress in offering effective and sustainable goods to the globe, from old Ayurveda practices to modern breakthroughs. Let us celebrate the tradition of Indian skincare and its wonderful influence on our lives as we embrace the spirit of freedom.
We as India's best skincare producers on Independence Day come with exclusive Independence Day deals to help people experience the beauty of our products through you. Let us stand together in honouring the beauty of our country and the brilliance of Indian skincare production, with radiant skin and a heart full of pride.