Understanding Home Cleaning Organic Private Label 
The Rise of Organic and Eco-Friendly Products
In recent years, there has been a substantial trend toward organic and eco-friendly product in a variety of businesses. Consumers are becoming more aware of the environmental impact of their purchases and are looking for products that coincide with their values. Organic home cleaning products are made with natural and non-toxic components, making them a popular choice among health-conscious consumers.
The Advantages of Using Organic Private Label Products
Health and safety: Organic products are free of harsh chemicals and poisons, making them safer for both users and the environment.
Environmental Impact: Organic produce home care products lowers the usage of synthetic chemicals, helping to make the world a cleaner and greener place for future generations.
Market Differentiation: Providing organic home cleaning products distinguishes firms and appeals to a growing segment of environmentally sensitive consumers.
Nutriglow Private Label: Leading the Way in Organic Home Cleaning Manufacturing
Nutriglow Private Label Overview
Nutriglow Private Label is a forerunner in organic manufacturing. Nutriglow specializes in providing superior organic home cleaning solutions that satisfy the highest standards of excellence, with a strong dedication to sustainability and quality.
Expertise and Specialisation of the Company
Nutriglow has refined the art of creating organic cleaning products that are both effective and environmentally safe, thanks to years of experience and industry expertise. The company's emphasis on developing and conducting research ensures that its goods remain at the cutting edge of innovation.
Commitment to Quality and Sustainability
Nutriglow's commitment to sustainability can be seen in every step of its production process. From carefully sourced ingredients to eco-friendly packaging, the firm tries to reduce its environmental footprint while providing high-quality products.
Why Organic Home Cleaning Products Are in High Demand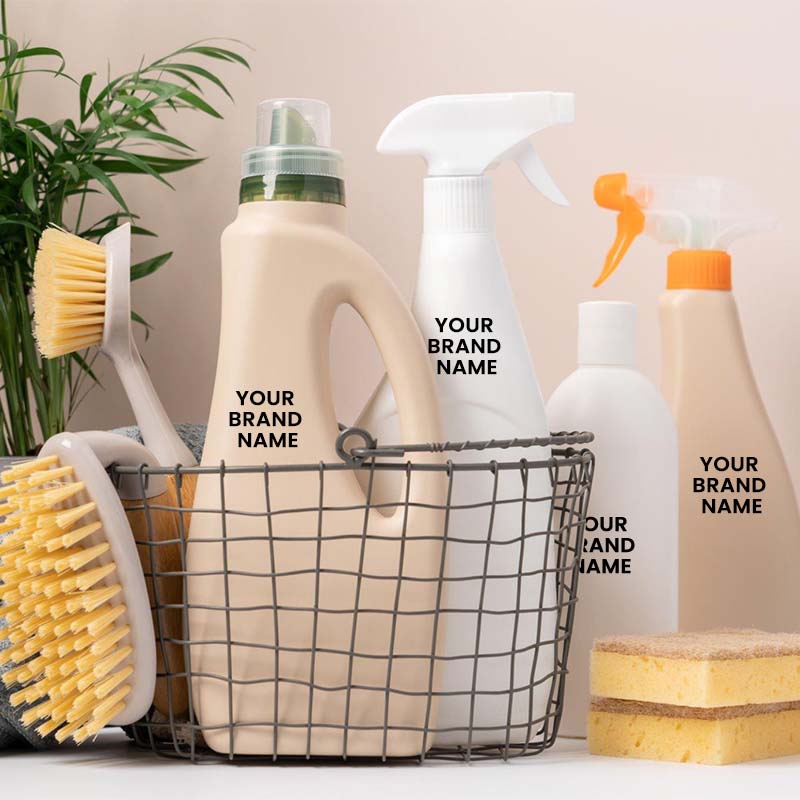 Consumer Awareness and Preference are Growing
Customers are increasingly looking for items that reflect their beliefs, such as those that promote health and environmental well-being. The increased health consciousness has increased demand for organic house cleaning products that are suitable for families and pets.
Concerns About the Environment Driving the Transition
Consumers are looking for alternatives since they are aware of the negative environmental impacts of traditional cleaning solutions polluting the environment causing a huge impact by degrading surrounding areas. Organic home cleaning supplies are a more environmentally friendly option that helps to prevent pollution and chemical exposure.
Market Statistics and Trends
Market research indicates that global demand for organic home cleaning solutions is increasing, with a projected growth rate of 16% over the next five years in India. This trend emphasizes the substantial prospects available in the organic cleaning business.
Considerations Before Selecting a Private Label Manufacturer
Certifications and Quality Assurance
When selecting a private label manufacturer for home cleaning products, it is vital to thoroughly assess their adherence to high-quality requirements. It's also a good idea to double-check that they have applicable certifications as per various Indian and international standards, such as FDA certification, WHO, halal, etc. These certificates demonstrate that the producer has met particular standards for environmental responsibility, product safety, and other critical considerations. You may be confident that your private label items will meet high quality and safety standards if you choose them as your third-party manufacturer. 
Manufacturing Procedures and Equipment
When examining a possible private label manufacturer, it is critical to examine their manufacturing capabilities, facilities, and equipment thoroughly. You should ensure that their equipment is current, well-maintained, and capable of generating the products you demand. You should also inspect their facilities to determine their cleanliness, organization, and overall fit for your product line. You might evaluate their production procedures, quality control measures, and packaging capabilities during your visit to ensure that they meet your specific requirements. You can make an informed judgment about whether the manufacturer is a suitable partner for your private label business by doing a complete examination of their manufacturing capabilities, facilities, and equipment.
Product Line and Customization Options
When choosing a private label manufacturer, evaluate their choice of organic cleaning products as well as their flexibility to customize products to suit your brand's personality. Look for a firm that provides a varied range of organic cleaning products that include natural and eco-friendly ingredients. Furthermore, ensure that they may personalize your products with labels, packaging, and branding that match your brand's personality and beliefs. It is critical to work with a manufacturer who appreciates the significance of developing items that are consistent with your brand's identity and values. You may establish a product line that stands out in the market and resonates with customers by selecting a manufacturer that offers a wide choice of organic cleaning items and customization options.
Capabilities in packaging and branding
Packaging is critical in product presentation. Look for a manufacturer with creative packaging and branding capabilities that complement the aesthetics of your business.
Market Research and Manufacturer Identification
When looking for the best private label manufacturer, look for companies that specialize in organic home cleaning products. Begin by compiling a list of possible business partners based on their reputation and the range of organic cleaning products they provide. Look for a manufacturer who offers a varied range of natural and eco-friendly cleaning products that connect with the ideals of your company. Consider the manufacturer's capacity to customize items, including labelling, packaging, and branding, to meet your brand's distinct personality. You can establish a product line that stands out in the market and resonates with your target audience by collaborating with a manufacturer who understands the necessity of designing items that match your brand's personality and values.
Nutriglow's Organic Private Label Manufacturing Overview
The manufacturing process of Nutriglow includes thorough research, ingredient procurement, formulation, and quality control. The company's commitment to quality ensures that each product is handcrafted with care and precision.
Natural ingredients and sustainable sourcing are prioritized.
For its organic home cleaning solutions, Nutriglow private label only uses the best natural ingredients sourced from govt approved following regulatory compliance. The company's commitment to sustainable sourcing helps to ensure the purity and effectiveness of the finished products.
Options for Customization to Meet the Specific Needs of Clients
One of Nutriglow's distinguishing characteristics is its capacity to customize goods to match the specific demands and tastes of clients. Nutriglow provides customized solutions, whether it's a specific scent, composition, or container design.
Conclusion
Organic home cleaning private label production is more crucial than ever in a world where sustainable choices are becoming increasingly important. You can also establish a line of organic home cleaning products that connect with consumer values and help to a healthier, more sustainable future by working with a recognized manufacturer like Nutriglow Private Label. 
What distinguishes organic cleaning products from conventional ones?
Ans. Organic cleaning solutions are made with natural, non-toxic materials, whereas conventional cleaning products frequently contain synthetic chemicals that are hazardous to one's health and the environment.
How can I confirm product quality before selecting a manufacturer?
If you're considering partnering with a private-label manufacturer for organic household cleaning products, it's important to thoroughly evaluate their products before making a decision. One way to do this is by requesting product samples to examine the quality, packaging options, and effectiveness of the organic cleaning goods. By testing the products, you can ensure that they meet your brand's standards and are effective in meeting your customers' needs. Don't be afraid to ask the manufacturer for more details about their manufacturing process and quality control measures, as this will give you a better understanding of the products you're considering. With a little research and due diligence, you can find the right private label manufacturer to help you create a successful product line that aligns with your brand's values and resonates with your target audience.