If you are a cosmetic start up or looking for a third-party manufacturer for cosmetic production in India for your brand? If yes, this means you are on the right track with us. The cosmetics market in India is expanding fast, and the demand for high-quality goods is increasing. In this post, we will delve into the complexities of third-party cosmetic manufacturing in India, providing useful insights and recommendations to assist you in navigating this dynamic business. Let's explore the world of cosmetics and learn the keys to success!
Understanding the Indian Market for Cosmetic Manufacturing
India's cosmetic market has been experiencing significant growth over the last two decades, driven by factors such as rising disposable incomes, changing consumer preferences, and increased urbanization. To thrive in this market, it's crucial to understand consumer demands and preferences. Indian consumers are increasingly seeking products that are natural, cruelty-free, and sustainable. By aligning your offerings with these demands, you can gain a competitive edge for your brands which requires deep knowledge of market dynamics and can be possible through an experienced third-party cosmetic manufacturer in India.
Choosing the Right Partner
Selecting the right third-party manufacturing partner is crucial for a successful venture. Thorough research is vital to identify potential cosmetic manufacturers in India. Look for partners with expertise, experience, and relevant certifications. Additionally, evaluate the partner's capabilities, infrastructure, and resources to ensure they can meet your production needs.
Legal and Regulatory Compliance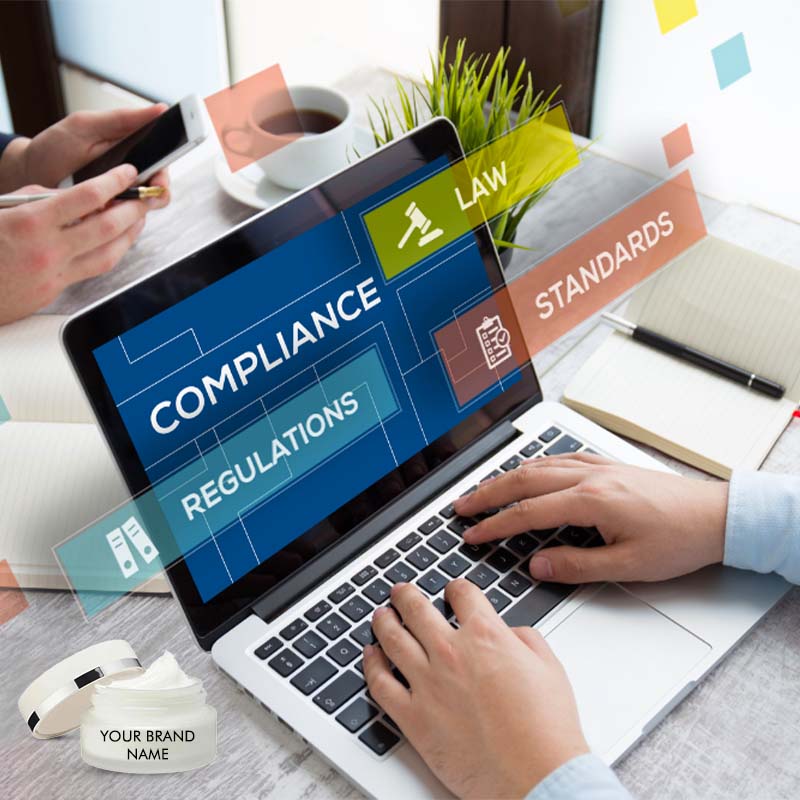 Complying with the legal and regulatory framework for cosmetic manufacturing is essential. The Drugs and Cosmetics Act 1940 and Rules 1945 control the necessity for cosmetic regulation in India. The Bureau of Indian Standards (BIS) establishes the standards for cosmetics included in Schedule 'S' of the Drugs and Cosmetics Rules of 1945. The rules seek to assure the safety, quality, and efficacy of cosmetic items sold in India. To maintain accountability and quality control, importers of cosmetic items must get a registration certificate from the Central Drugs Standard Control Organisation (CDSCO). From the date of issuance, the registration certificate is valid for three years.
By associating with Nutrigow's private label you can skip all these formalities as it takes a considerable amount of time and focus more on the marketing aspect of your business. By adhering to these quality standards and safety regulations we ensure the production of safe and high-quality cosmetic products.
Navigating Supply Chain and Logistics
An efficient supply chain and logistics strategy is vital for successful third-party manufacturing. Sourcing raw materials and components from reliable suppliers at competitive prices is crucial. Evaluate transportation and delivery modes to ensure timely and cost-effective delivery of finished products. Additionally, manage inventory effectively to minimize lead times.
Cost Analysis and Pricing Strategies
Accurately calculating total production costs is essential for determining the right pricing strategy. Consider economies of scale and production volumes to optimize costs. It's important to maintain competitiveness in pricing while ensuring the quality of the end products.
Effective Communication and Collaboration
Establishing open lines of communication with your manufacturing partner is vital. Clearly define expectations, product specifications, and timelines to avoid potential misunderstandings. Regularly review progress and address any issues promptly to ensure a smooth manufacturing process.
Quality Control and Assurance
Implementing robust quality control measures is crucial to maintain the desired product quality. Conduct inspections and quality checks at different stages of the manufacturing process to ensure adherence to specifications. Continuous monitoring and improvement of manufacturing processes are essential for consistent quality.
Building a Strong Brand Image
Customize product packaging and design to create a strong brand image. Invest in effective marketing and promotional strategies to reach your target audience. Incorporating sustainable practices in your manufacturing process can also help align your brand with the growing consumer preference for sustainability.
Third-Party Manufacturing Advantages
Cost-effectiveness
Using third-party production can help you save money on operations. Nutriglow's cutting-edge facilities and economies of scale make it an affordable option.
Focus on Branding
You can focus on establishing and promoting your brand while Nutriglow Private Label handles the production process. This is critical to build a significant market presence.
Scalability
Nutriglow can simply scale up production to meet rising demand as your company expands. This adaptability is a huge benefit in the ever-changing cosmetic sector.
Why Nutriglow 
Innovative Technology
In India, Nutriglow Private Label is at the forefront of cosmetic production technologies. Their production facilities are outfitted with cutting-edge machinery and equipment. Several key factors are ensured by this technological prowess:
Precision
Using cutting-edge technology allows for exact measurement and control over every stage of the production process. This accuracy guarantees that each product batch fulfills the desired criteria constantly, resulting in uniform and high-quality cosmetics.
Efficiency
Cutting-edge technology speeds manufacturing processes, lowering the likelihood of mistakes and waste. This not only saves time but also reduces expenses, allowing you to price your beauty items competitively.
Innovation
Nutriglow utilizes technology to keep ahead of industry trends. They can swiftly adjust to changes in customer tastes and industry advances, keeping your products relevant and enticing.
Customization Options
One of Nutriglow's distinguishing aspects is its dedication to customization. They recognize that each cosmetic brand is unique and that a one-size-fits-all strategy would not work. Here's how you may profit from their customizing options:
Custom-made Formulations: Nutriglow works directly with you to develop cosmetic formulations that are exactly aligned with your brand's vision and the demands of your target audience. They may adjust the recipe to your individual needs whether you're making skincare, haircare, or cosmetics goods.
Packaging and Branding: In addition to formulation, Nutriglow provides packaging and branding customization choices. This means you may develop a distinct visual identity for your cosmetic brand, which will help it stand out on store shelves and in the eyes of customers.
Conclusion
To summarise, Joining hands with a successful third-party cosmetic manufacturing in India can help you to achieve your dreams of establishing your cosmetic brands. You receive access to cutting-edge technology, personalization choices, and quality assurance with Nutriglow Private Label as your trusted partner. 
Remember the significance of market research, compliance, and a strong brand identification as you begin on this new business. These factors, when paired with Nutriglow's experience, can pave the path for your brand's success in the Indian cosmetics business.
Frequently asked question 
Q: How long does it take to produce a new Nutriglow cosmetic product?
A: The timing varies based on the formulation's complexity, however, Nutriglow's staff works quickly to minimize development time.
Q: Is it necessary to undertake market research before beginning?
A: Without a doubt. Understanding the preferences of your target market is critical for success. Nutriglow team can assist you with this research to guarantee that your goods are in line with market trends.
Q: Is Nutriglow capable of handling large-scale production?
A: Yes, Nutriglow's facilities are built to handle both small and large-scale manufacturing, allowing you to effortlessly expand your business.
Q: What is the order minimum for third-party manufacturing?
A: We provide this flexibility, with acceptable minimum order numbers to meet your demands depending upon the future need & requirements.
Q: How can I begin using Nutriglow Private Label?
A: Simply contact our team which is just one call away from you, clarify your needs, and they will walk you through the entire process, from concept to final product.